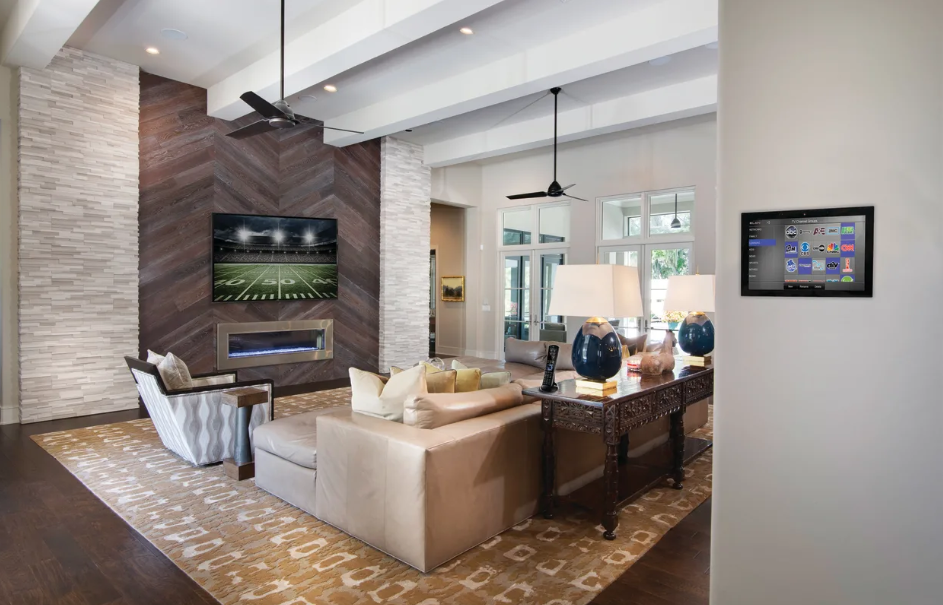 Audio and video installation services in Los Angeles offer a comprehensive suite of solutions to customers looking to upgrade their audio and video systems. From installing home theaters, music systems, surround sound setups, and more, these services can make sure that your entertainment system is running smoothly. They also provide repair and maintenance for existing systems, as well as custom installation services for larger projects. Many companies in the area have years of experience in the industry and are committed to providing quality service to their customers. Whether you're looking for a single component or an entire home theater setup, these audio and video installers can help you get the most out of your entertainment system.
Benefits of hiring audio and video installers
1. Professional Expertise: Audio and video installers have the professional expertise required for setting up the electronic devices like speakers, projectors, TVs, and sound systems, etc. so that they are set up correctly for optimal performance.
2. Time Management: Audio and video installers will save you time in the installation process, as they have the knowledge and experience to do it right. They can assess the needs of your space and determine the best placement for your equipment in a fraction of the time it would take you to do it.
3. Convenient: Hiring an audio and video installer is convenient, as it reduces the stress and time investment associated with attempting to set up the equipment yourself.
4. Proper wiring and connections: Audio and video installers have excellent knowledge of wiring and connections, which ensure that all equipment is properly connected and has no loose cables.
5. Personalized service: Audio and video installers provide personalized services that ensure all of your preferences are considered during installation, such as adjusting the volume levels, creating custom sound profiles, and implementing home automation.
6. Warranty protection and support: Audio and video installers offer warranty protection and support for their installations. If any faults are found during the installation process, they will address it and ensure that your system is up and running.
7. Future maintenance: Audio and video installers provide future maintenance services to their clients, ensuring that any issues with the equipment can be resolved quickly and efficiently.
Research Potential Contractors For Audio Video Installation
Here are some steps to find contractors for audio-video installation in Los Angeles:
1. Ask for referrals from friends, family, or colleagues who have had similar work done. Word-of-mouth recommendations can be a great way to find a reliable contractor.
2. Use online directories like Yelp, Angie's List, or HomeAdvisor to search for contractors in your area. These directories allow you to read reviews and ratings from previous customers.
3. Check out the websites of audio-video installation companies in your area. Review their portfolio, read any customer testimonials or case studies to determine whether the contractor fits the scope of the work.
4. Interview prospective contractors. Speak to the contractors, ask questions about their experience, license and insurance coverage, and review their portfolio to determine if they are a good fit for your work.
5. Obtain detailed cost estimates from at least three contractors. Request that the contractor provides a detailed breakdown and a list of materials used for the project. It is important to have cost estimates to make an informed decision before signing the contract.
6. Verify that the contractor has adequate insurance coverage. Ensure that the contractor has both liability insurance and workers' compensation coverage. This will ensure that you are not held liable in case of any unfortunate incidents while the project is going on.
7. Check with the Better Business Bureau to see if there have been any complaints filed against the contractor. This will give you an idea of the reliability of the contractor.
8. Once you choose a contractor, make sure you have a signed contract in place that outlines the scope of work, timeline, payment schedule, and warranties. This will ensure that both parties are clear on what is required and when payment is due.
Consider Experience and Expertise Of The Audio And Video Installers
When choosing an audio video installer, it is important to consider their level of experience and expertise. Here are some factors to consider:
1. Experience: Look for an installer who has a proven track record of successful installations. The more experience they have, the more likely they are to have encountered a range of different situations and challenges, and to know how to solve them.
2. Training and certification: Find out if the installer has undergone any formal training or certification in audio video installation. This can be an indication that they have a certain level of expertise and knowledge in the field.
3. References and reviews: Ask for references from previous clients or read online reviews to get an idea of the installer's work and level of customer satisfaction.
4. Specialization: Consider whether the installer specializes in the specific type of installation you need. For example, if you need a home theater installation, look for an installer who has experience in that area.
5. Technology knowledge: Ensure that the installer has up-to-date knowledge of new technology and industry trends to provide the latest and best solutions to your needs. Overall, a highly experienced and knowledgeable installer can ensure a successful and effective installation that meets your specific needs and expectations.
Check Licenses and Insurance
It is important for customers to check and verify the licenses and insurances of audio video installers before hiring them. This will ensure that the installer is qualified and covered for any damages or accidents that may occur during the installation process. It is recommended to ask the installer for proof of insurance and to check with relevant local authorities about their licenses and certifications.
Why Choose Us For Audio Video Installation?
Here are some reasons why people choose professional audio video installation services:
1. Expertise: Professional audio video installers have the required expertise and knowledge to recommend the best audio video system suitable for your home or business. They are also familiar with advanced technologies and can recommend the best products in the market.
2. Customization: A professional audio video installer can provide customized solutions to meet your specific needs. They can design, install and configure an audio video system that suits your specific space and functionality requirements.
3. Quality: Professional audio video installers ensure quality workmanship and use high-quality equipment and components to ensure that the audio video system lasts long and provides excellent performance.
4. Efficiency: Professional audio video installers have the experience and skills to complete the installation process quickly and efficiently. They can save you time and minimize disruption to your business or personal life.
5. Warranties: Professional audio video installers provide warranties on their work, which gives you peace of mind knowing that any issues that arise will be addressed promptly.
6. Support: Professional audio video installers provide ongoing support and maintenance services to ensure that the audio video system operates optimally, and any issues are resolved quickly. Overall, choosing a professional audio video installer provides peace of mind, high-quality installation, and ongoing support and maintenance services, making it a wise investment for your business or home.
Final Walkthrough and Testing
Before the final walk-through and testing of the audio video (AV) system, it is important to make sure that all the equipment is installed and wired correctly. This includes the AV receiver, speakers, amplifier, TV, projector, and any other necessary peripherals such as DVD/Blu-ray players, gaming consoles, or streaming devices. Once everything is set up and connected, follow these steps for the final walk-through and testing of the AV system:
1. Turn on all equipment: Turn on all the equipment including the TV or projector, AV receiver, and any peripheral devices.
2. Check the connections: Ensure that all peripheral devices are connected to the AV receiver or TV correctly. This includes ensuring that the inputs are correctly set.
3. Set up the sound system: Using the AV receiver, set up the sound system by selecting the appropriate speakers and setting up the surround sound configuration.
4. Test the speakers: Play an audio source to test the sound system. Check each speaker to ensure they are working properly and producing the correct sound.
5. Test the video: Play a video source to test the video quality. Check for any issues such as pixelation, artifacts, or other image quality problems.
6. Adjust settings: Adjust the settings on the TV, projector or AV receiver as needed to optimize the audio and video quality.
7. Test peripheral devices: Test any peripheral devices such as gaming consoles or streaming devices to ensure they are working properly and are correctly connected to the AV system.
8. Final check: Conduct a final check to ensure that everything is working properly. Once the final walk-through and testing of the AV system is complete, document the settings and the configuration for future reference. This will help in case there is a need for troubleshooting or making changes in the future. A good audio and video installers can help you with everything.
Read More About-