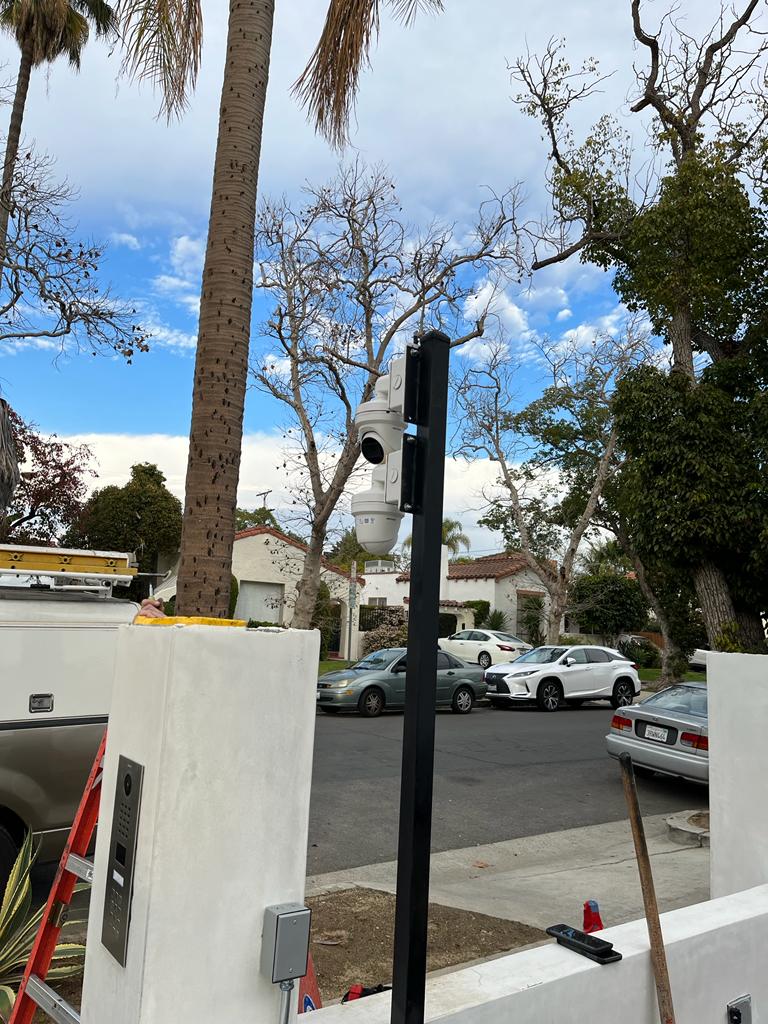 CCTV (Closed Circuit Television) installation is a service that helps businesses and homeowners protect their properties from theft, vandalism, and other criminal activities. CCTV systems are comprised of cameras, monitors, recording devices, and other associated equipment which can be used to monitor activity in and around a premises. CCTV installation services provide businesses and homeowners with professional guidance on the best system for their needs as well as installing the necessary components. They are also responsible for providing maintenance and repairs when needed.
Explanation of what CCTV systems are
CCTV (Closed Circuit Television) systems are a type of surveillance technology that involves the installation of cameras and monitoring equipment in a specific area, such as a building, outdoor space, or vehicle. The cameras capture live video feeds which can be viewed on monitors, recorded, or transmitted to a remote location via a network or internet connection.
CCTV systems can be used for a variety of purposes, including crime prevention and detection, employee monitoring, traffic management, and public safety. They are commonly used in businesses, public spaces, homes, and government buildings. CCTV systems may also include features such as motion detection, facial recognition, and infrared imaging capabilities.
Tips on CCTV installation services in Los Angeles
1. Check for licenses and certifications: Always look for CCTV installation service providers who are licensed and certified by relevant authorities in Los Angeles. This ensures that they are qualified to conduct CCTV installations and have the necessary knowledge and expertise.
2. Experience: Look for CCTV installation services in Los Angeles with experience in the field. Experienced service providers will have a better understanding of the challenges and considerations that come with installing CCTV cameras in various settings.
3. Read reviews: Read reviews and feedback from previous customers to get an idea of the quality of service offered by the CCTV installation company. This helps in identifying if they meet client expectations and if their work is satisfactory.
4. Cost: Request quotes from different CCTV installation services in Los Angeles and compare their prices to get the best deal. However, be wary of service providers who offer cheap services as they may not provide quality work.
5. Warranty: Check if the CCTV installation company offers a warranty for their work. A warranty ensures that any issues arising after installation are addressed promptly without any extra cost.
6. Consultation: Consider CCTV installation services that offer consultation services on what type of CCTV cameras to install, where they should be positioned, and the number of cameras required. This helps in choosing the most suitable surveillance system for your needs.
7. Maintenance: Choose CCTV installation services that offer maintenance services as part of their package. This ensures that the cameras are regularly checked and maintained to ensure they are functioning correctly.
Consider lighting and camera resolution Of CCTV Camera
Lighting and camera resolution are crucial factors in CCTV installation services. Here's why:
1. Lighting: The quality of lighting in the surveillance area has a direct impact on the image quality of the CCTV camera. Insufficient lighting can result in poor image quality, making it difficult to identify subjects in the footage. Similarly, excessive lighting can lead to glare and overexposure, which can also compromise the accuracy of the footage. It is therefore essential to ensure that the lighting is optimum to capture clear and accurate footage.
2. Camera resolution: The resolution of a CCTV camera determines the amount of detail that can be captured in the footage. A higher resolution camera can capture finer details, making it easier to identify faces, license plates, and other critical details. In contrast, a lower resolution camera may not provide enough details, making it difficult to identify subjects accurately. A 1080p or 4K resolution camera is generally preferred for surveillance purposes as they provide high-quality footage. To sum up, the lighting and camera resolution are essential factors that can significantly impact the effectiveness of a CCTV camera. It is essential to ensure that both these factors are optimized to capture clear and accurate footage.
Find a Reliable CCTV Installation Services Provider
1. Read customer reviews: Look for feedback from past customers as it will help you to know the quality and reliability of the provider's services.
2. Check for experience: Always choose a provider with years of experience in CCTV installation as it guarantees expertise and knowledge of the field.
3. Expertise in different types of CCTV systems: A good CCTV provider should be able to provide different types of CCTV systems like IP cameras, HD cameras, wireless cameras, among others.
4. Customer service: A reliable provider should have exceptional customer service. The provider should respond to queries and concerns promptly.
5. Licensing and certification: It is important to engage with a provider that is licensed and certified to operate. This guarantees that the provider adheres to the regulations in your area.
6. Price: Choose a provider that offers reasonable and transparent pricing. The provider should present comprehensive quotes that list all the equipment and services included.
7. Warranty: Look for a provider that offers warranties and guarantees for the equipment and services provided.
8. Technical support: A good CCTV provider should offer technical support and maintenance for the CCTV systems installed.
9. Technology: Choose a CCTV provider that incorporates modern technology and advancements in their services.
10. Supplier partnerships: It is important to choose a provider that uses products and systems from reliable suppliers, guaranteeing high-quality products and services.
CCTV Camera Installation Process
The following steps can be followed for CCTV installation services:
1. Site Survey: Before installing CCTV cameras, a site survey needs to be conducted to determine the suitable locations for the cameras. This survey will help determine which areas require surveillance the most, where the cameras should be placed, and the number of cameras required.
2. Designing a Camera Layout: Based on the site survey, a camera layout can be designed. This includes deciding where the cameras should be placed and the range they should cover. A layout should ideally show the location of each camera with indication of the view they will capture.
3. Preparing the Site: The site where the cameras will be installed should be prepared for installation. This may involve drilling holes in walls, running cables and conduit, installing mounts, and ensuring that the cameras are installed at the proper height.
4. Installing the Cameras: The cameras should be installed according to the plan developed in the design phase. Each camera should be carefully placed at the predetermined location and secured properly.
5. Running Cables: Once the cameras are installed, cables need to be run from the cameras to the monitoring station. The cable type selected should be able to deliver a clear signal and high-resolution videos.
6. Connecting Cameras to the Monitoring System: Once the cables are installed, the cameras need to be connected to the monitoring system. This involves verifying that each camera is providing a clear and consistent signal.
7. Setting Up Remote Access: Remote access should be set up so that the footage can be accessed from anywhere using an internet-connected device. This enables live feeds to be monitored or playback of recorded footage to be accessed.
8. Testing and Final Check: After installation, the system should be tested to ensure that each camera captures a clear image, and that the recording and playback are functioning correctly. Once installation is complete, the CCTV system is ready to provide video surveillance and security to the area it is installed in.
Why Choose Onboard IT Tech For CCTV Installation Services?
Here are some reasons why customers may choose CCTV installation service from a company:
1. Expertise: A professional CCTV installation service has the skills and experience to ensure that the system is installed correctly and functions efficiently.
2. Quality: A reputable company uses quality components that offer clear images, high-resolution, and reliable performance.
3. Security: CCTV is a crucial aspect of security, and a reputable company understands the importance of deploying a system that addresses the unique security needs of a specific property.
4. Support and Maintenance: A professional company provides ongoing support and maintenance, including troubleshooting, software updates, and hardware replacement.
5. Compliance: A reputable CCTV installation service will make sure to comply with relevant regulations and guidelines to ensure that the system is legal and meets all the required standards.
6. Cost-effective: A professional CCTV installation service can save customers money in the long run by reducing the risk of break-ins and theft, identifying and preventing potential risks, and keeping surveillance footage for legal purposes.
Read More About: