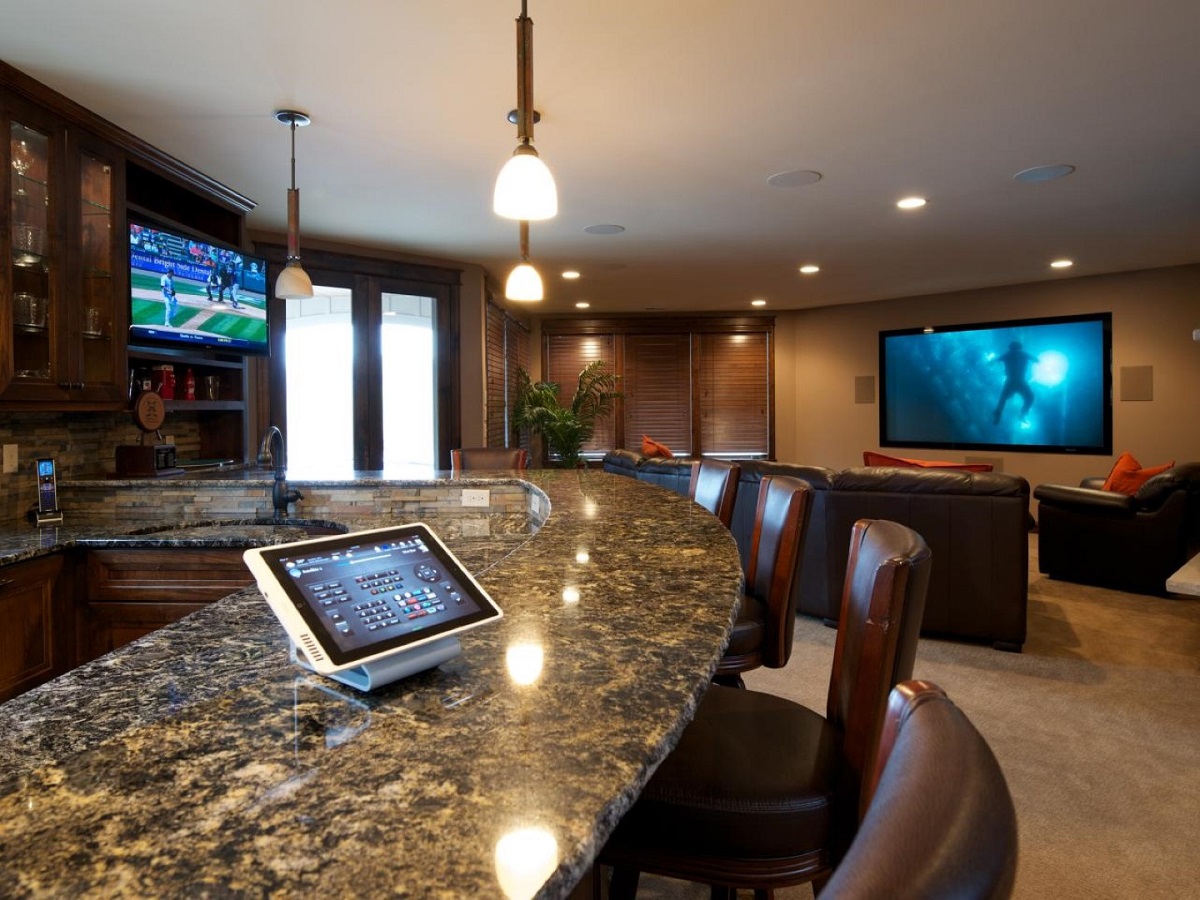 Smarthome lighting is a type of technology that allows you to control your lights from your smartphone or other device, usually through an app. Smart home lighting systems can be used to turn lights on and off remotely, change the brightness and color of lights, set schedules for when lights should come on or off, and even use voice commands to control them. Smart home lighting
Definition of a smarthome lighting system
A smart home lighting system is a setup in which all or some of the lighting elements are connected to a central system or device, typically through a Wi-Fi network, that allows for automated control. Users can remotely adjust the brightness, color, and timing of their lights using a mobile app or voice-controlled digital assistant. This system may also feature advanced functionalities such as customizable scene settings, energy usage tracking, or motion sensor compatibility.
Importance of smarthome lighting in enhancing convenience and energy efficiency
Smart home lighting is becoming a significant aspect of people's lives, not just because it offers an element of luxury and convenience, but also due to its potential for energy efficiency. Below are a few ways smart home lighting enhances both convenience and energy efficiency.
1. Control from Anywhere: One of the most convenient features of smart home lighting is the ability to control it from anywhere. Whether you are in bed or not at home, you can easily turn the lights on or off using a smartphone app. This feature is not just practical but also adds a security level to your home as you can make it appear someone is home even when you are away.
2. Energy Efficiency: Smart light bulbs are more energy-efficient than traditional incandescent bulbs. They use less electricity and last longer, saving you both energy and money in the long run.
3. Scheduling: Smart home lighting systems can be programmed to turn on or off at specific times. You won't have to worry about wasting energy by leaving the lights on while you're away.
4. Automated Adjustments: Certain smart lighting systems can automatically adjust the brightness based on the amount of natural light. This feature ensures no energy is wasted by lighting a room more than necessary.
5. Integration with Other Smart Devices: Smart home lighting can also be integrated with other smart home devices, such as thermostats and blinds. This means your lights can adjust based on factors like the temperature in your home or the amount of sunlight your home is receiving, further optimizing energy usage.
6. Personalization: Smart lighting systems allow for personalization to fit the homeowner's needs and preferences. That means the lights can be dimmed or brightened based on activities, improving the overall home environment and ensuring energy is used efficiently.
7. Voice Control: Integration with devices like Amazon Alexa, Google Assistant, or Apple Siri allows for hands-free voice control, providing another level of convenience.
Smart home lighting goes beyond simple convenience. It is an effective way to manage energy usage and reduce electricity bills. With the increasing public awareness of environmental issues, it's clear that technologies that help reduce our carbon footprint, even in small ways, are more important than ever.
Benefits of Smart Home Lighting in Los Angeles
1. Energy Efficiency: One of the biggest benefits of smarthome lighting is that it is much more energy efficient than traditional lighting. This can help you to reduce your carbon footprint and save money on your energy bills.
2. Convenience: With smart lighting, you can control all of the lights in your home from your smartphone or tablet. This means you can turn lights on and off from anywhere, even if you are not home. This can be particularly useful if you forgot to turn off a light before leaving the house, or if you want to turn on the lights before you arrive home.
3. Increased Safety: Smart home lighting can also increase safety in your Los Angeles home. You can program your lights to turn on and off at certain times, giving the illusion that someone is home even when you're away. This can help to deter potential burglars. In addition, you can use smart lighting to light up dark outside areas, reducing the risk of tripping or falling when you arrive home late at night.
4. Customization: Smart lighting allows you to completely customize your lighting experience. You can control the brightness and color of your lights, creating the perfect ambiance for any occasion.
5. Voice Control: Many smart lighting systems can be integrated with voice-controlled devices like Alexa or Google Home. This allows you to control your lighting with simple voice commands, adding another layer of convenience.
6. Improved Health: Some research suggest that smart lighting can improve your health by helping to regulate your body's natural circadian rhythm. For instance, you can program your lights to mimic the natural cycle of daylight, gradually getting brighter in the morning to help you wake up, and dimming in the evening to signal your body it's time to sleep.
The Future of Smart Home Lighting in Los Angeles
Smart lighting is rapidly becoming a necessary amenity for homes in Los Angeles. The future of smart home lighting in this city is expected to evolve faster, adapting to the needs of homeowners and the nation's energy-saving goals.
1. Energy Efficient: As the world continues to fight against climate change, there will be a rise in demand for energy-efficient solutions. Los Angeles residents, known for their environmental consciousness, will mostly adapt to smarthome lighting systems, which reduce energy consumption. It will contribute significantly to the city's commitment to reducing its greenhouse gas emissions.
2. Integration with Smart Home Systems: The integration of smart lighting with other smart home devices will become even more seamless. This will make the operation of home lighting systems more convenient and efficient, allowing homeowners in Los Angeles to control their lights from anywhere in their home and even when they are away from home.
3. Increased Use of Solar Energy: The sunny climate of Los Angeles makes it an ideal location for the use of solar energy. A significant chunk of the power required to run smart home lighting systems in the city could be supplied from renewable sources.
4. Personalization: The future will see a rise in lighting systems that adapt to a person's mood and house environment. Smart lighting will become more intuitive and personalized in the future, sensing the time of day, the amount of natural light available, and adjusting themselves for activities like reading, relaxing, or socializing.
5. Voice Control: With the rise of voice-controlled devices, such as Amazon Alexa, Google Home, or Apple HomeKit, residents of Los Angeles will experience an increase in voice-controlled smart lighting systems.
6. Automated Lights: Be it walking down the hallway after sunset or waking up for a drink of water at night, automatic lights will be more accessible.
Why Choose Onboard IT Tech For Smarthome Lighting?
1. Expertise: Our team of professionals has extensive knowledge and experience in smart home lighting, ensuring that you receive the best solutions for your specific needs.
2. Personalized service: We provide personalized service to ensure that our smart home lighting solutions align with your preferences, lifestyle, and budget.
3. Advanced Technology: We use modern technology that allows you to control your lighting from anywhere, adjust it to your mood or activity, and even save energy.
4. Comprehensive Solutions: We offer comprehensive solutions for smart home lighting that include design, installation, configuration, and post-installation support.
5. Quality Products: We only use high-quality, reliable products that ensure longevity and optimal performance.
6. Competitive Pricing: We offer competitive pricing without compromising on quality, providing excellent value for money.
7. Customer Satisfaction: We prioritize customer satisfaction and strive to exceed your expectations in all aspects of our service.
8. Environmentally Friendly: Our smart home lighting solutions are energy efficient, helping you reduce your carbon footprint.
9. After-sales Support: Our dedicated after-sales support team is always on hand to assist with any questions or problems you may have, ensuring your complete peace of mind.
10. Easy to Use: Our smart lighting systems are designed to be user-friendly, making it easy for anyone to control and adjust the lighting in their home.
Read More About: