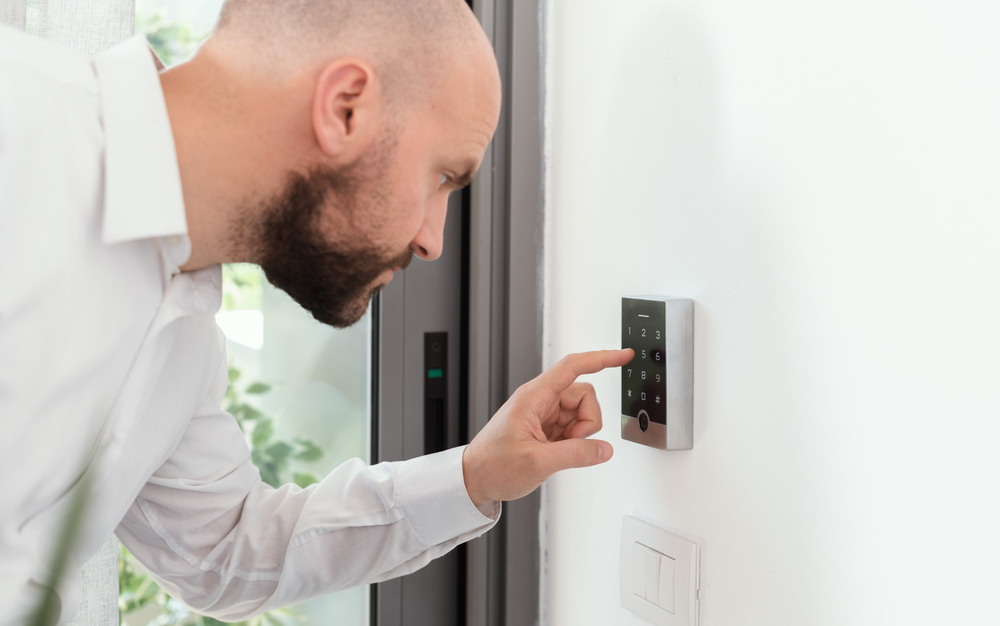 Definition of security alarm
A security alarm is an electronic device designed to detect and alert individuals of unauthorized entry or potential danger in a building, residence or public area. It typically consists of sensors, control panels, and an audible or visual alarm that triggers when suspicious activity or an emergency is detected. Security alarms can be set up to monitor various aspects of a property, such as doors, windows, and motion detectors, and can be programmed to send alerts to designated persons or authorities in real-time. The primary purpose of a security alarm is to prevent theft, vandalism, or other crimes and promote safety by deterring or responding quickly to any danger or threat.
What is a door security alarm system?
A door security alarm system is a type of electronic security device that is installed on doors or other entry points. It typically consists of a control panel that triggers an audible alarm when the door or window is opened, allowing users to be alerted to potential intruders. Door security systems are often used in combination with other types of home or commercial security measures such as CCTV cameras, motion sensors, and access control systems.
Importance of alarm in Los Angeles
There are several reasons why having a security alarm in Los Angeles is important. Some of the key benefits include:
1. Deterrence of Crime: Security alarms are a strong deterrent for criminals. When a home or business is equipped with a security alarm, criminals are less likely to target the property for theft or other crimes.
2. Fast Response: With a security alarm, law enforcement can be notified rapidly in the event of a break-in. This can result in faster response times, leading to reduced damage and increased chances of catching the perpetrators.
3. Appropriate Emergency Response: Many security alarms are equipped with features that allow for a customized response to specific types of emergencies. This ensures that the appropriate emergency personnel are notified in case of a fire, medical emergency, or other critical situation.
4. Increased Peace of Mind: Knowing that a security alarm is in place can help to create a sense of safety and security. This can be particularly important if the property is left unattended for periods of time, such as during vacations or business trips.
5. Protection of Property: Security alarms can help to protect both personal and business property. In addition to warning of intrusions, many security alarms are equipped with sensors that can detect smoke or water damage, helping to minimize losses from fires or flooding.
Types of alarms for security
1. Burglar alarms: These alarm systems are designed to detect and alert the occupants of a property in case of a break-in or intrusion. They typically use sensors on doors and windows that trigger the alarm when they sense an unauthorized entry.
2. Fire alarms: These alarm systems are designed to detect smoke and fire, alerting occupants of a property of a fire emergency. They may also alert a monitoring center, allowing for the possibility of emergency response.
3. Carbon monoxide alarms: These alarm systems detect the presence of carbon monoxide gas, which is odorless and can be deadly in high concentrations. They alert the occupants of a property of the gas's presence, allowing them to evacuate and call for help.
4. Flood and water alarms: These alarm systems are designed to detect water leaks or flooding in a property. They can alert homeowners to potential water damage and help prevent costly repairs.
5. Medical alarms: These alarm systems are designed to allow individuals who require medical assistance or monitoring to contact emergency services or medical professionals quickly and easily.
6. Panic alarms: These alarm systems are designed to allow individuals to quickly and discreetly alert authorities of an emergency, such as a home invasion, kidnapping, or medical emergency.
The Process Of Installing The System
1. Gather information about your home: Before installing a security alarm system, you should evaluate your home and determine the areas that need protection. This information can help you choose the right type of system and the sensors that would be required.
2. Choose the right alarm system: Select the security alarm system that suits your needs. You can choose a wired system or a wireless one, depending on your preference. A wired system is considered more reliable and requires a professional to install it. Wireless systems are typically easier to install and can be easily integrated with other household devices.
3. Install the sensors: The sensors are the most critical component of your security alarm system. They can detect any unusual activity and trigger the alarm. The sensors can be placed in different areas, such as doors, windows, or motion detectors. Ensure that they are installed correctly to avoid false alarms.
4. Wire the system: In case you have chosen a wired security system, it should be wired correctly. You can either choose to do it yourself or hire a professional to install the system.
5. Set up the control panel: Once the sensors are installed and wired, you need to position the control panel at a central location that is easily accessible. You also need to program the control panel and check the settings to ensure that they are functioning correctly.
6. Test the System: After the installation is complete, test the system to ensure it is working seamlessly. You can simulate an alarm scenario and check if the sensors detect the activity and trigger the alarm.
7. Get a monitoring solution: Consider signing up for a monitoring solution that can contact you or emergency services when security breaches occur. It adds an extra layer of security to your home security system.
8. Train all users: Finally, ensure that everyone in your home is aware of the new security alarm system. Train them on how to use the system effectively, including arming/disarming, and what to do during an emergency.
How To Choose The Right Installer?
1. Research the company: Before you decide to hire any security alarm installer, it's important to do some research into their background and credentials. Look for independent reviews from customers and ask for references from previous clients.
2. Ask about the experience: The installer should be knowledgeable about the most up-to-date security alarms and technologies, so make sure to ask how long they have been in business and what certifications or qualifications they possess.
3. Make sure they're licensed: The installer should be licensed by the relevant authority in your area and must comply with all local laws and regulations about security systems installation.
4. Get a quote: Ask the installers for quotes on different types of alarm systems, so you can compare prices and services before making a decision. Make sure that all costs are laid out, including installation fees, hardware costs, monitoring fees, etc.
5. Check the warranty: Quality security systems usually come with a warranty that covers both parts and labor for a certain period after installation—typically one or two years—so make sure this is included in your agreement with the installer.
Why Choose Us For Installing Security Alarm System?
1. Professional Installation: Our technicians are highly trained and certified to ensure that your system is installed properly and will provide years of reliable service.
2. Customization: We can customize a security alarm system to meet your specific needs, providing you with the best possible protection for your family and property.
3. Quality Equipment: We only use top-of-the-line equipment from the leading alarm system manufacturers, so you can trust that your system will be dependable and effective.
4. 24/7 Monitoring: With our 24-hour monitoring service, you'll have peace of mind knowing that your home or business is protected around the clock.
5. Comprehensive Coverage: From burglary, fire, flood and medical emergencies, our alarm systems provide comprehensive coverage to protect what matters most to you.
Read More About-